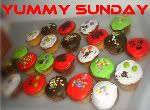 Have you tried this one? This is called the "
Nilatikang Suman
". This was our desserts after we ate our breakfast as we traveled home from Cagayan de Oro to Ozamis City last Friday. It was my first time to eat such, indeed it was so yummy! The "
suman
" is breaded with dessicated coconut plus the yummy
latik
! Deliciouso!!!!