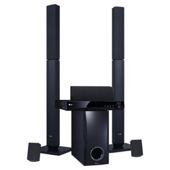 A home theatre systems is a great addition to any home and can be enjoyed by all members of the family. The most ideal home theatre system that
perfectly blends style and function
is a wise choice for movie aficionados of all ages. Here are a few tips to get you started.
Selecting Your Television
This will be the main focal point of your home entertainment system, so you will want to select a high quality television. You will probably have a flat screen television in your home already that you can use, but if not, this is the perfect excuse to go out and buy a top of the range HDTV. Look for a television that has a number of modern features such as Wi-Fi connectivity and built in internet streaming.
Speakers
Speakers come in all shapes and sizes and you can choose the ones that perfectly fit the dimensions of your room. As long as you choose high quality speakers and position them carefully to create a surround sound effect, the size and shape of the speakers does not really matter too much.
Receiver
This is another essential element of your brand new entertainment system, as the receiver manages the audio and video effects to make your home theatre system run smoothly. When it comes to selecting the right receiver, it is important to budget first, as they can be expensive. Be realistic about the functions you need the receiver to perform so that you can avoid expensive receivers that offer a wide range of options that you simply do not need.
Cables
Even if you already have plenty of cables, leads and plugs, it is always good to have a few spares as a backup. These items can be purchased fairly cheaply, so it is a good idea to go for the best and make sure that you replace them fairly regularly to make sure that all of your devices are fully functioning at all times.
Now that you have got everything you need, you are ready to put it all together. The great thing about creating a home entertainment system is that you can design it to your own specifications. You have the chance to really let your imagination run wild and design something that you will be able to use for many years to come. The only real limits are your budget and your imagination.